Before the feeling of 2021 finally sinks in, I decided to do a quick favourites of 2020. I've seen a lot of bloggers do their yearly and monthly favourites on here – this is my take. There are a lot of categories of favourites but I have picked ten that I am sharing with you today. Here goes –
# 1: Favourite Skincare
This one is hard since I changed my skincare routine radically last year and I liked A LOT of new products that I incorporated. Two favourite skincare products were Estee Lauder's Advanced Night Repair Serum and Requil's pitstop gel. Both worked wonders to calm my skin and get rid of any breakouts.
#2: Favourite Makeup
I hardly bought any makeup in 2020 (what was the point?). I was gifted some makeup and again, I have two favourites – MAC's Retro Matte lipstick in the shade Mehr and Smashbox's liquid lip colour in the shade Gulabae. They are both perfect nude colours for Indian skin tone and I really like layering them together.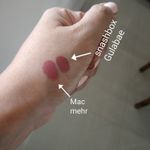 #3: Favourite Moment
My birthday was definitely my favourite moment of the year – despite not doing much – it still felt special and was a lot of fun. (I've posted about it a lot already – go read about it here.)
#4: Favourite Holiday
I went on a few holidays during the pre-covid days and our last family trip to India's Wine county – Nashik was my favourite. It was the last few days that we spent carefree – in an amazing resort and road tripping! It was also our last time together in Mumbai!
#5: Favourite Show
Definitely Tiger King! Haha, kidding. I consumed A LOT of content in 2020 and my favourite show definitely has to be Dead To Me! Can't wait for season 3! Read my entire review here.
#6: Favourite Book
I read around 20 books last year and my favourite has to be Veronica Roth's – 'Chosen Ones'. I loved the fast pace of the novel and the storyline had me hooked. Read my entire review here.
#7: Favourite Food
There are three – first had to be this Cheesecake that I baked at home, second is Cheddar Jalapeno Cheetos and third, instant ramen! Find the recipe for the cheesecake here.
#8: Favourite Memory
This is a bittersweet memory – when I said goodbye to Mumbai as well as my first house last year and moved back to my folk's house. It broke my heart but my last sunset from my home window is a memory that I will keep locked up in my heart. 🙂
#9: Favourite Achievement
Having the guts to quit my extremely well settled but mind numbing corporate job to pursue my own thing. I'm so glad I did this and that the fear (as well as anxiety) of unsettling my life (and my income stream) didn't stop me from leaving a job that had made me an anxious mess. (Wish me luck!) A close second is dealing with my anxiety and being in a better place mental health wise.
#10: Favourite Blogger
Hmmm, who will it be? Will it be her, him or you? hahha, kidding! It's a long list and I cannot pick just one. 😀
Bonus
Favourite thing overall of 2020 – THIS BLOG! ❤
What were some of your favourites from 2020? Let me know in the comments below! 🙂
Hope 2021 is going well so far for you! ❤
Product Links (Incase you were curious):
Smashbox Liquid Lip Colour- Gulabae
If you aren't following me already, hit the follow button and show my blog some love! 😀
Also, checkout my recent posts –