February has been so good to me reading wise! 3 books down and all 3 turned out so good. It's been a long time since I've had such luck with books and I hope it continues for me. I just finished this book a few hours back and it is still sinking in – but let me just say it – I LOVED THIS BOOK.
Book Name – Aristotle and Dante Discover the Secrets of the Universe by Benjamin Alire Sáenz
Plot – The book revolves around the unlikely friendship of 15 year olds – Aristotle & Dante. Aristotle is a young, angry boy who doesn't like opening up to people not even his own family. Dante, on the other hand, is an outgoing, lovable boy who finds it easy to start a conversation with just about anyone. Both boys have one thing in common – they both prefer to be on their own. When Dante and Aristotle meet one summer – an unlikely spark is lit between them that helps them understand not only their universe but also themselves better.
Review – This book is a beautiful coming of age story. It's beautifully written – the author has written such profound lines in such an easy manner – I highlighted half the book! The book beautifully tells the tale of these two boys – who randomly strike up a conversation one summer – that leads to the most beautiful relationship ever. Aristotle is a toughie who is always angry. His brother is in prison and he constantly fixates on how his parents behave like his brother is dead to them and refuse to tell him what happened. His father is a surly Vietnam war veteran – who doesn't open up much. His mother constantly worries about Aristotle being lonely and becoming like his older brother. Dante on the other hand is a know-it-all intellect who has a English professor dad and a therapist mom. His parents shower him with affection and in return Dante grows up to be a very affectionate boy who isn't afraid of his emotions. As they grow up together – Aristotle and Dante – help each other understand themselves as they navigate life together one hurdle at a time. This book had me constantly tearing up because of how beautiful yet realistic the story was. The characters, the relationships, the plot lines – you are bound to fall in love with it all. It is one of those stories that just has you in its grips from the first few pages itself. I felt like I was a part of their world and not a third person viewing the story unfold from a distance. I love when authors are able to do that. I found myself relating to so many of the characters and their emotions – something that rarely happens. All in all, it was a beautiful journey to read this book.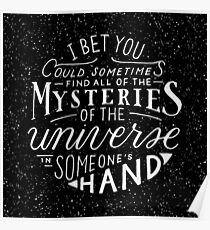 Verdict – If you haven't already, go read this book now! I recommend this book to everyone but especially people looking for a beautiful, feel good novel. 10/10
Have you read the book? Did you enjoy it? Why are we able to connect so deeply with some books?
If this review piqued your interest, checkout the book here.
Checkout my reviews of my other February reads –
The Song of Achilles by Madeline Miller
Checkout my other latest posts –