India is a huge country with so much to see. So many popular destinations and so many offbeat destinations awaiting to be discovered. While I usually stay away from popular "touristy" places and try to go down the offbeat path, sometimes it is just easier to go to popular places because they are well connected especially for my solo travels. While my India bucket list has TOO many places for a single blog, here are my top 5 that I hope to cover in the near(est) future –
Kashmir
Every single photo I see of Kashmir makes me want to visit the place even more. Nestled in the north of India and often called heaven on earth – Kashmir has been on top of my bucket list for a few years now. I am hoping to visit Kashmir this winters and revel in the beautiful snow covered places in the state. From Sringar to Gulmarg to Nubhra Valley – I want to travel around Kashmir and revel in its beauty. I can't wait to try skiing there! I also hope to interact with the locals and see life through a local's eyes to understand how the hand they have been dealt with has impacted them.
Benares or Varanasi
Varanasi is a top tourist location in India for both locals and foreigners. While the touristy aspect of Varanasi makes it a little less interesting to me but its mythical feel invites me to its ghats. I can't wait to sit on the ghats and listen to the evening prayers. I want to take boat rides on the river Ganges and have chai in winters along the banks of the mighty river and just soak in the culture and heritage of Benares. I also so want to shop for Banarasi silk. My friend, Srishty, and I have been planning this trip for SO long – I hope we get to go soon!
Meghalaya
The North East of India has forever fascinated me. This part of India is the least explored and the least touristy or commercialized. You can still discover pristine waterfalls and be one with nature without having too many tourists around. While Arunachal Pradesh is also on my bucket list, I definitely can't wait to visit Meghalaya first and do a waterfall road trip i.e. drive from waterfall to waterfall. If it isn't obvious already – I am OBSESSED with waterfalls. I also can't wait to visit the living roots bridges which have been made by local tribes people using live roots. Exploring Mawsmai Cave is also on my bucket list. This trip is going to be a LONG one.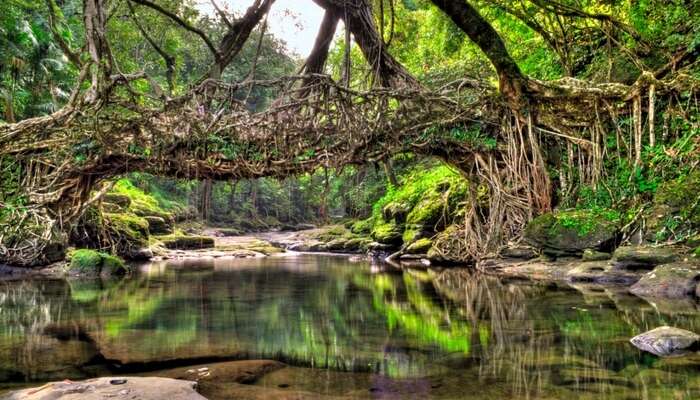 Lakshadweep
I am a total beach baby and I CANNOT wait to explore these clear blue waters of Lakshadweep. Lakshadweep is a group of islands, south of India, that are mostly inhabited and hence are home to beautiful coral reels and pristine beaches. It is open to tourists via a permit issued by Government of India. Just looking at the clear blue waters and white sand beaches in the photos makes me wish I was living in Lakshadweep.
Ladakh
If you've seen photos of Leh-Ladakh – you are bound to want to visit. The place seems spell bindingly beautiful. Though it has slipped on my bucket list since SO many tourists have started going and actually polluting and dirtying this gorgeous, pristine place. If I have to pick one thing that I'd love to do it would be the Chadar Trek which is a very difficult winter trek over the frozen Zanskar river. But it would be a thrill to do this trek! I'd also love to visit the monasteries and get lucky and see a snow leopard. I hope I get to visit Ladakh in the near future.
Have you been to India? If you haven't, I recommend adding my beautiful country to your bucket list! I promise it won't disappoint you.
Check out my other recent posts –