Read part 1 of the series: Visit India : Kashmir Diaries
Earlier in January, I visited Kashmir for a week-long holiday. Kashmir has been on top of my bucket list for the past few years and I am so glad I could tick it off, and I am sure I will be going back soon in the next few years. As mentioned in part 1 of my Kashmir diaries, if you are flying into Kashmir, you will land at the Srinagar Airport (Sheikh ul-Alam International Airport). Any Kashmir itinerary is incomplete without spending a day or two in Srinagar (depending on how long you have to spend in Kashmir). Here is my detailed itinerary for Srinagar to help you plan your trip:
How many days – I'd recommend staying 2 days in Srinagar out of a week-long trip to Kashmir. If you are flying out of Srinagar, it makes sense to spend the last night in Srinagar to avoid any travel hassles.
Where to stay
Luxury – If you are not on a budget then I'd recommend The Lalit Grand Palace (USD300+/night) which is within walking distance from the famous Dal Lake. A lot of other touristic points are a few kilometers away. It is an old palace turned into a hotel and the rooms have retained the luxury of the royal times. The other option is Taj Vivanta Dal View which has rooms in a similar price range.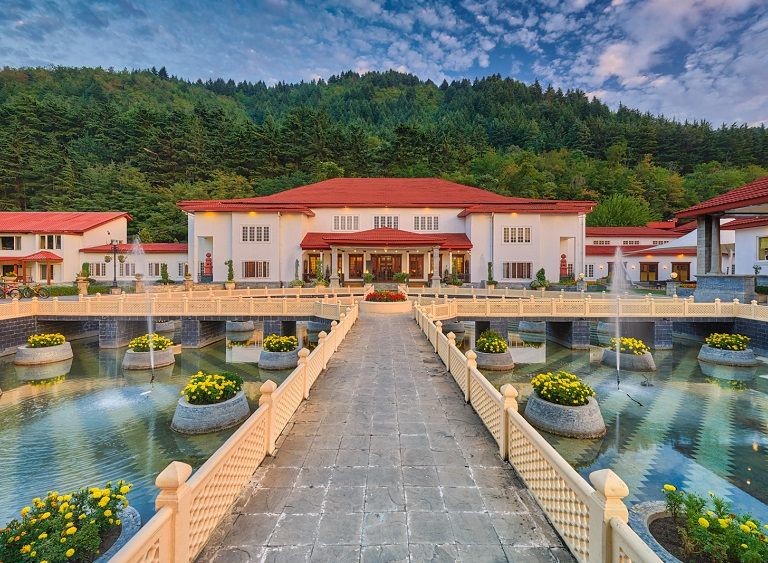 Budget – If you are on a budget I'd recommend two hotels. Radisson Srinagar (USD80+/night) is a great budget option that is well located too. We personally stayed in hotel Ahdoos (USD40+/night) which was AN AMAZING deal for the room. While we had originally planned on staying in Radisson, their cancellation policy meant I'd lose money if I had to cancel (with COVID around, I always opt for cancellable bookings) whereas Ahdoos had a free cancellation policy which is why I booked that hotel. But this choice ended up being perfect for us. Not only are the hotel rooms really nice, but it is also located on the banks of Jhelum as well as near a market and has the highest-rated restaurant in Srinagar. I'd definitely recommend this hotel even if you are not on a budget.
Something Different – Kashmir is famous for its houseboats on the Dal Lake. They have beautifully done interiors and it is an experience to stay in one of them. We didn't stay in them because we went during peak winters (though houseboats are heated) and didn't want to take a chance with the cold. But I definitely recommend living in one for at least one night. (Linking a post with houseboat recommendations across budgets.)
Backpacking – There are a lot of guesthouses that offer rooms in the sub USD10/night range. I can't recommend any since no one I know has stayed in them. While I did do a google search for hostels but couldn't find any that I could recommend.
To-Do Activities
Floating Vegetable Market at Dal Lake – Every morning vegetable vendors flock to the Dal Lake to sell their produce on floating shikara boats. It is a beautiful sight to watch these vendors sell produce across boats. The market starts at 4AM (as far as I know) and ends at 6AM. Yes, you need to be there by 5AM to catch all the hustle bustle. It is a photographer's dream come true. Plus you can catch sunrise over Dal Lake.
Sunset Shikhara ride at Dal Lake – Yes, the Dal is a major tourist attraction in Srinagar! If you can't make it for sunrise, definitely take a sunset Shikara ride on the Dal and watch the colours of the sky change. Take in the peace, grab a cup of Qahwa (local Kashmiri tea) and just get your peace on.
Visit The Tulip Garden – if you are in Srinagar in spring, you are in for a treat. Srinagar has the most beautiful gardens with the most beautiful flowers. The tulip gardens are a definite must visit.
Mughal Gardens – Mughal Emperor Jehangir and his Empress, Nur Jahan spent a lot of time in Kashmir. During their reign they built some beautiful breathtaking gardens around the Dal Lake. These gardens are best visited during the summer months.

Shalimar Bagh is the largest garden and was originally called 'Farah Baksh' which means delightful. The garden is divided into terraces and has a water canal running through it.
The second largest Mughal garden is Nishat Bagh or the 'Garden of Bliss'. Located near the Dal with a backdrop of mountains – it a beautiful garden to spend some quiet time reading a book in.
Chashme Shahi Bagh, this Mughal Garden has a natural spring flowing through it which is supposed to have medicinal properties.
Pari Mahal – or 'Abode of Fairies' was once the home of Mughal Emperor Shah Jahan's son Dara Shikoh. It a beautiful stone palace built in the 1600s on a hill overlooking the Dal Lake.
Zero bridge – This old wooden bridge was decomissioned for traffic a few decades back but can be used by people to cross the Jhelum river. The view from the birdge is beautiful.
Shankaracharya Temple – is an ancient temple dedicated to Lord Shiva and located on a hill top. The temple is accesible by stairs – 243 stairs to be precise. We went during snowfall and it was a real pain to climb the stairs. This is one of the few places where strict checking is done at entry and no mobile phones or cameras are allowed inside.
Hazratbal Shrine – The shrine of Hazratbal is a sacred place of prayer for Muslims and is situated on the left bank of the Dal Lake.
Hari Parbat Fort – The initial fortifications of this fort were made by the Mughal Emperor Akbar way back in 1590. But the fort as we see it was built in the late 19th centurey by an Afghan Governor. This fort is a religious place containing a Hindu temple, two Muslim shrines and a Gurudwara. Again there are A LOT of steps to climb, so you should be mentally prepared for the same.
Take a walk on the banks of Jhelum river – There are several parks and walking routes along the Jhelum river (near residency road) where you can take a walk and get some quiet time. There is also a beautiful Mosque (right behind Ahdoos Hotel).
Dachigam National Park -home to the Kashmir Stag, leopards, himalayan black and brown bear and other flora and fauna – this national park is an ideal place for wildlife enthusiasts. There is also a trek that can be undertaken for enthusiasts who want to experience wildlife from even closer. (Please note you need a permit to visit this national park)
Depending on how long you are in Srinagar and the weather conditions – you can choose from this list of activities to do. There are many beautiful, historic mosques in the old city area which are off-limits to tourists, maybe if you can find a local guide to take you to them you can add the Pathar Mosque and Jama Masjid to your to-do list.
Places To eat
Is any itinerary recommendation complete without a few food options?
Ahdoos Restaurant – rated one of the highest for Wazwan food (local food) – the food here will not disappoint you.
Ahdoos Bakery – If you are looking to for a cutesy coffee shop with amazing desserts, this bakery is perfect fora quiet evening in especially if it is snowing out.
Bistro Boulevard – This cutesy cafe right opposite Dal Lake that offers a variety of cuisines and an even bigger variety of desserts.
Cafe Liberty – If you are looking for a fun and quirky place to hangout with great food too, this is the place for that. Perfect for dinner with a group of friends.
Krishna Vaishno Dhaba – The footfall at this dhaba will leave you shocked. This tiny restaurant serving only vegetarian food has long lines queueing up outside and for good reason. (Meal for three costed us – 5USD only!)
Chai Jaai – There are two Kashmiri teas which are very different and worth a try – Qahwa and Noon Chai. Qahwa is a sort of sweet green tea with saffron and other spices that makes it so tasty. Noon chai on the other hand is a salty tea which is definitely not everyone's cup of tea but worth one try.
Local bakeries – A lot of local snacks like Kashmiri naan (bread), kulcha etc. can be found in local bakeries (that are inexpensive) – definitely stop and try some out.
Shopping
Kashmir is known for its pashmina/shahtoosh shawls, woolen clothes, enamel work products, paper-mache products, apples, saffron, dry fruits, etc. Places I'd recommend in Srinagar –
Residency road – it has some really cute shops for clothes, bags and shoes. I recommend the shop 'Butterfly' for any local clothes that you might want to pick – they had very pretty pieces. (Please note that you will have to bargain to get a good price in these shops.)
Kashmir Government Arts Emporium – they have all Kashmiri products under one roof and is a perfect place to pick up all your souveniers from. I picked up a phiran (a woolen kurta like dress that is worn by locals to keep themselves warm) from here.
Things to keep in mind –
There is additional security in Kashmir. There is a lot of army deployed across Kashmir. It can be a little unnerving in the beginning but you eventually get used to it. You might be stopped for an ID check. In a few places, you will have to get your bags checked too. Please be mindful of the same.
A lot of Kashmiris depend on tourism as a source of income. You will have to bargain down the prices everywhere from taxis to shikhara rides to shopping but ensure they get their right dues too.
If going during snowfall season, keep your plans flexible as snowfall can cause road blockage and flight cancellations.
I hadn't anticipated that this post would get this long but as I mentioned in my last post, my attempts with my travel posts in 2022 would be focused on giving a truer glimpse into traveling in India in the hopes to bust some myths.
Have you traveled to Kashmir? How was your experience? If you haven't, add it to your bucket list now.
Next in this series, I will cover my Gulmarg itinerary.
If you haven't already, check out my other recent posts –